One of the very first questions I get from couples considering Napa or Sonoma for their destination wedding is, "what is the best time of year for a wedding?"  If you are not familiar with the area, there are a few different factors to take into consideration when choosing your wedding date.  Here is the break down of my pros and cons for each season in wine country.
Spring Weddings in Wine Country (March – May)
Springtime is a gorgeous time of year in wine country.  In wine country, we receive the majority of our rain in November – May, which leaves the hills and the surrounding scenery truly green.  As I drive through the rural parts of Napa and Sonoma counties, it reminds me of Ireland.  The rolling green hills, with sheep and cows grazing on the fresh green grass, and pops of spring time flowers emerging, it is breathtaking.  It's also a "slower" time of year for tourism, allowing you to visit wineries without the massive crowds and hotel rates are less expensive than in the summer and fall.  Some wedding venues even offer discounted pricing, making weddings more affordable at this time of year.  The only thing to keep in mind is that there is still a chance of rain during this time of year.  If you have hoped for an all outdoor wedding, make sure you have a rain back up plan and are comfortable with the costs of tenting if bad weather were to come in on your wedding day.  The good news is they say that rain is good luck on your wedding day!
Summer Weddings in Wine Country (June – August)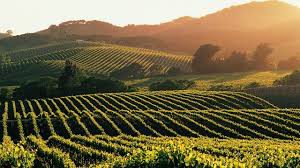 Summertime in wine country is my favorite time of the year for a wedding.  The daytime is full of sunshine and warm weather, guaranteeing perfect evening weather for your outdoor reception.  Most people don't realize that the temperature drops a good 20 – 30 degrees after the sun goes down.  So even if we have a high of 90 degrees on a July day, it will most likely be in the 60s – 70s after sunset, which is a perfect temperature for an outdoor wedding in my opinion.  In addition, you have most likely decided on wine country for the stunning views and having a later sunset time is key to be able to enjoy those vineyards views for your cocktail hour and dinner reception.  It can also save you money on both heat lamps and lighting – which is a bonus!
Fall Weddings in Wine Country (September – November)
September and October are the two busiest wedding months in wine country.  People love to be in wine country during harvest and there are always a ton of things to do at this time of year for your guests.  From old fashion grape stomps (think of "I Love Lucy" style) to harvest parties at wineries, your wedding guests will be sure to find a lot to do while they are in town.  The scenery and weather in both September and early October, is very similar to what you will find during the summer months.  It will be warm during the day and a bit cooler at night.  Keep in mind that the sun does start to set earlier, leaving you less daylight to enjoy the views and adding potential costs of needing heaters and more lighting at the venue.  The best part of fall (in my opinion) is in late October and early November when the leaves on the vines start to change colors.  It is absolutely beautiful.  I will never get sick of seeing the rolling hills of vineyards in bright oranges, reds and yellows.  It will make for stunning wedding photos as well!
Winter Weddings in Wine Country (December – February)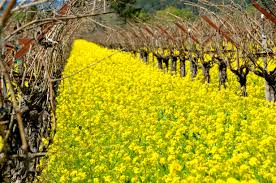 The winter time is the least popular time of year to get married in wine country.  This is due to short days and unpredictable weather.  I have seen many winters without a drop of rain and beautiful sunny days, but we have also seen years like this past one, where we are experiencing storm after storm.  Winter weddings are fantastic if you are considering an indoor reception.  A lot of wineries have gorgeous barrel rooms and wine caves for receptions, where you can still get the quintessential wine country wedding, but keep your wedding safe from the outdoor elements.  Also, may venues offer "off-peak" wedding pricing, allowing you to get married in wine country for sometimes half of what it would cost during the summer or fall months.  It's something to consider if you are on a tight budget but have your heart set on wine country!
Overall, there is no wrong choice – it's what works best for you, your fiancée and family and friends.  Napa and Sonoma are truly beautiful year round, and every season has it's own draw.  You will not be disappointed with your decision to make Napa or Sonoma your wedding destination!